CCFL Lamps
Cold Cathode Fluoresent Lamp
NDF the specialist for CCFL lamps
NDF produces high-quality CCFL Lamps at its factory in Roosendaal, The Netherlands. Our long life CCFL lamps possess, by means of a number of patented technologies, various unique properties such as:
Exeptionally long service life up to 100,000 hours
Wide lamp current path up to 15 mA
Good resistance to swithing
Resistant to low temperatures, so that our CCFL lamps can also be used outside
CCFL in niche market and custom made
NDF focuses with this high-quality product on the niche market, where high demands are set and where absolute top quality is required. We deliver only custom made products in the market where high-quality CCFL lamps are required.
These products are developed in close cooperation, entirely in accodance with the wishes and requirements of our customer. After an intensive test period and approval by us and the customer, the CCFL lamps are released for production.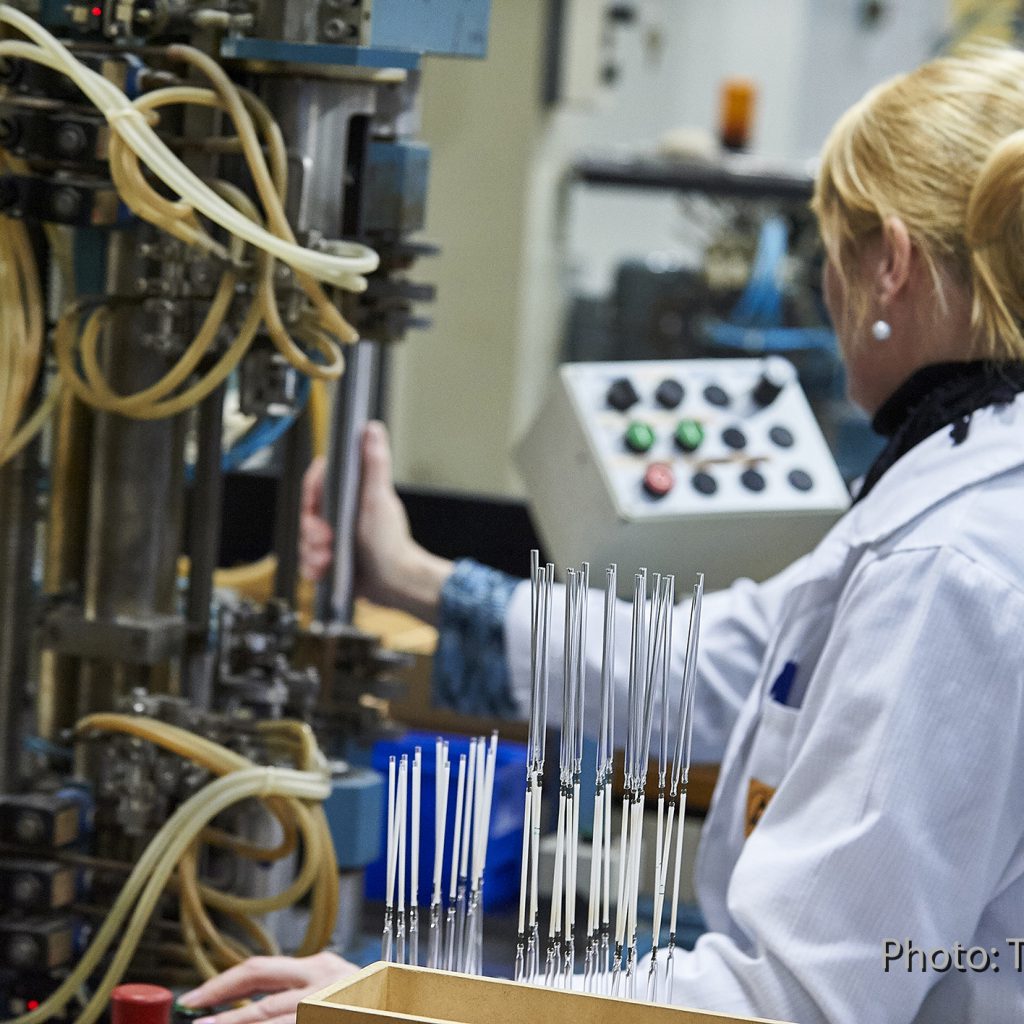 CCFL Lamps diameters
NDF offers a wide choice in diameters of your CCFL Lamps. The outer diameter can vary from 2.4 to 6.2 mm. We also have the possibility to also adjust the inside diameter of our CCFL lamps. This makes it possible to realize the correct brightness level. We calculate the perfect ratio for your application.
Shapes CCFL lamp
We have a unique production method, which gives us the possibility to bend the CCFL lamp. This allows u to produce virtually any shape for you without sacrificing quality. In addition to the 2 dimensional design, we also have the possibility to produce lamps in the 3 dimensional plane.
Length of CCFL lamps
The lenght of our CCFL lamps can vary continuously from 120 mm to 1200 mm. The ratio of length : diameter depends on the shape and the application. 
Color CCFL lamp
At NDF we offer you a very wide range of color temperatures on tri band phosphors, which have proven themselves during lifetime tests over a period of more than 10 years. There is also the possibility of obtaining custom made colors based on these phosphors.
Inverters
NDF is of the opinion that it is not possible to work with a standard inverter and lamp off the shelf. To obtain a reliable system it is important that inverter lamp and application are in balance. It is because of this that NDF paid an exceptional amount of attention to the design of its inverters. 
In addition, these also have to be adapted to the special properties of the NDF long life CCFL lamps so that not only a lamp but also a system reliability can be obtained.
Lengte CCFL lampen
De lengte van onze CCFL lampen kan traploos variëren van 120 mm tot 1200 mm. De verhouding van lengte:diameter is afhankelijk van de vorm en de applicatie.
Kleuren CCFL lamp
Bij NDF bieden wij u een zeer brede range van kleurtemperaturen op tri band fosforen, die zich bewezen hebben gedurende levensduur testen over een periode van meer dan 10 jaar. Tevens bestaat de mogelijkheid om op basis van deze fosforen ook custom made colors te verkrijgen.
Inverters
NDF is van mening, dat het niet mogelijk is om met een standaard inverter en lamp van de plank te werken. Voor het verkrijgen van een betrouwbaar systeem is het van belang dat inverter lamp en aplicatie in balans zijn. Het is hierdoor dat NDF uitzonderlijk veel aandacht besteed aan het ontwerp van zijn inverters. Daarnaast dienen deze ook afgestemt te zijn op de bijzondere eigendschappen van de NDF long Life CCFL zodat niet alleen een lamp maar ook een systeembetreouwbaarheid verkregen wordt.
Dit resulteert in de mogelijkheid voor het toepassen van custom-made inverters. Hierbij valt te denken aan varieties in ingangspanning, afmetingen, lampstroom onsteekspanningen. Het geheel zal aangepast worden aan uw applicatie.